7 DIY Steps for End-of-Season Ski Maintenance
The spring is approaching – time to start thinking about the end-of-season ski maintenance. Proper ski care before summer storage will prevent your skis from rust and extend their lifespan significantly. And (also important) your skis will be ready for the new ski season almost in no time! Keep reading to get 7 easy DIY steps for pre-summer ski maintenance!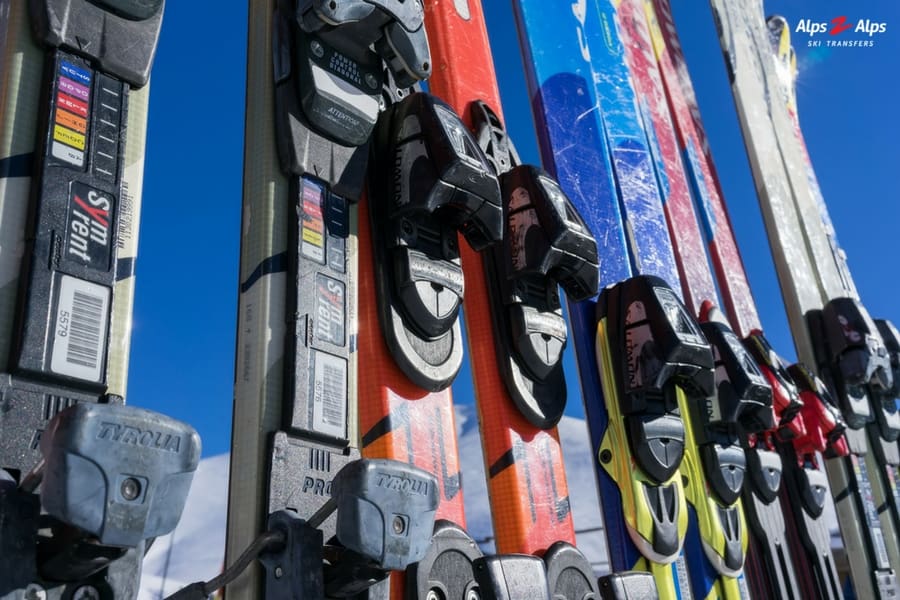 Step 1. Clean Well
The first important step of ski maintenance – cleaning. Rinse well with a garden hose or in the shower, but try not to get the bindings too wet. Then use a cloth to remove any dirt or mud stuck to your skis after hitting the often dirty spring-time slopes. For the best ski care results, allow to air dry overnight.
Ski maintenance product to try: Ski cleaning wipe by Swix will be durable and reliable.
Step 2. Tune your Skis
After an intense ski season, ski maintenance will need a bit more than just cleaning. Yes, we're talking ski tuning or ski sharpening. It might sound like a complicated job, but if you have your own ski tuning tools, it can easily be done at home. Just follow these steps:
Remove burrs and dents from the edges with a gummy stone, because they can easily turn into big spots of rust during the summer;
It's worth investing in ski securing vices that will make ski tuning more precise and safe;
A file guide will help you have the correct base and side edge angles, usually specified by the manufacturer;
Start off ski sharpening with the base edge and then move on to the side edge;
Make smooth overlapping strokes with the file tip to tail, as suggested by most ski tuning experts;
When done, once again polish the edges off with a gummy stone.
Ski tuning tools to try: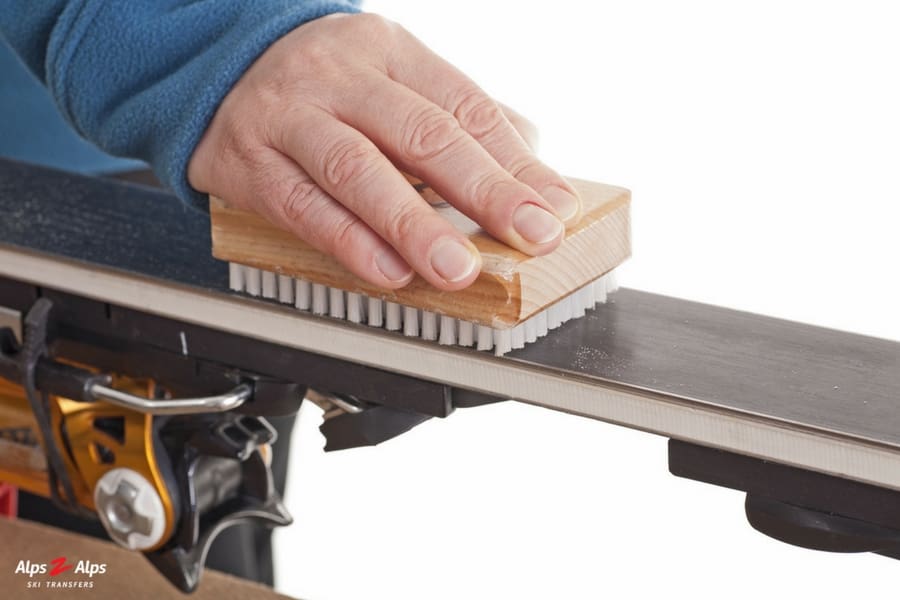 Step 3. Remove Old Ski Wax
When done with ski tuning, time to remove the old wax from the bases – a really important ski care step before applying summer storage wax. Use a ski wax brush to scrape off as much old wax as possible. The same as with ski tuning, make gentle brushes tip to toe, never back and forth!
Ski maintenance product to try: Ski wax brush kit by RaceWax – quality and performance in one kit.
Step 4. Apply Storage Ski Wax
Now apply a summer storage ski wax layer to protect skis from moisture and rust. There are many ski wax types, but most ski care experts suggest using hot ski wax (and avoiding liquid ski wax) for pre-summer ski maintenance. Follow these easy steps on how to apply hot ski wax:
Check the ski wax packaging to set the correct temperature on your ski wax iron;
Hold a piece of ski wax against the iron and let it drip onto the ski base;
Your skis will absorb a lot of wax during the summer, use around three times more than you think is sufficient.
Ski maintenance products to try:
Step 5. Iron the Wax
Now take your ski wax iron and melt evenly so that the wax covers the base fully and drips over to the edges as well. Keep the iron moving (you don't want to burn the bases!) back and forth, yet still maintaining tip to tail direction. Let your skis rest for 2 hours and done – your ski care procedure is a success!
Ski maintenance product to try: T8 Wax Iron by Toko is very durable and easy to use.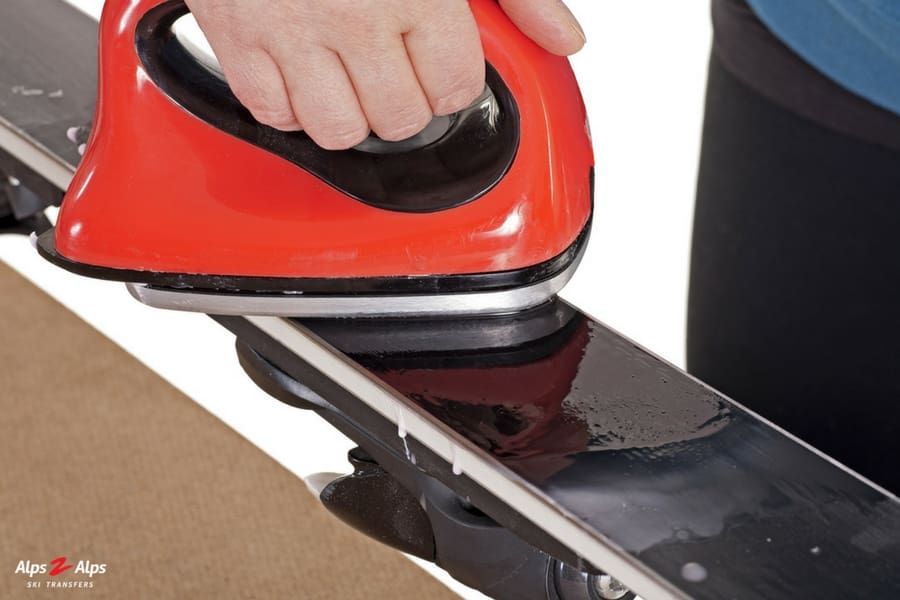 Step 6. Store your Skis
Your skis are ready for the summer! Here are some tips on how to store skis:
Put them together base to base and secure with a strap or rubber band.
Cover them with a cloth or put in a special ski bag.
Leave in a cool and dry place, preferably away from sunlight.
Ski maintenance product to try: This adjustable single ski bag by High Sierra will make sure your skis are safely stored, plus it has extra padding to protect bindings.
Step 7. Ski Boot Maintenance
Skis are done, but don't forget about ski boot storage for the summer! Ski boot maintenance might seem obvious, but there are a few important details to remember:
Think about ski boot storage only when they are clean and completely dry.
Now is the perfect time to have a good look and see if there's any damage – maybe you need a new pair of boots;
Put them in a bag and store in a cool, dry place.
Ski boot maintenance product to try: We really liked this handy boot bag "Everything" by Athalon.
Hope you found these ski maintenance tips useful! Don't forget to share the article with your friends and ask about their ski care techniques!